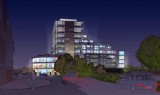 Ifield Holdings
Permission negotiated for the erection of a 7 storey block of 70 open market and affordable flats, with ground floor Business floorspace and amenity landscaping on roof terraces, negotiated with BAA to avoid impact on the Inner Horizontal Surface for Gatwick Airport flight paths.
The site occupies a prominent location and required a detailed assessment of the impact of this substantial landmark building on two adjacent Conservation Areas and listed buildings.
The scheme also involved negotiation of a planning obligation to obtain permits for parking in an adjacent Council multi-storey car park.