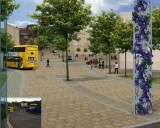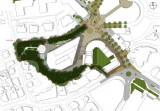 Inland Homes
The former Winter Gardens site is part owned by the Authority and partly by the developer client. We managed the submission and running of the application and prepared the Planning Performance Agreement.
The leisure and commercial-led scheme was the subject of an on-going appeal when we were initially instructed. We successfully promoted a revised development that did not involve re-course to appeal and was negotiated at the local level, with a comprehensive local consultation process with residents and businesses and presentations to the Council's Design Board and Planning Board.
Along with the inclusion of a significant residential component to ensure viability, we successfully managed impacts on a Conservation Area, listed buildings and local resident's amenities from this mixed commercial (15,000sqm) scheme comprising ice skating rink, art gallery, hotel, dining and entertainments and 114 flats.
Part of the process that helped to unlock the site was an extensive traffic calming scheme that was promoted to the Authority as a shared space/public plaza bringing urban design improvements to the locality.
Gallery
Click on an image thumbnail to view the full size version.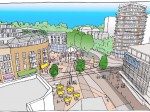 Aerial View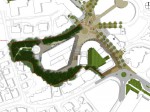 Public Realm Plan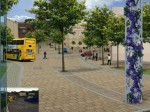 Street Scene