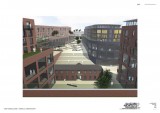 Sheriff's Gate Ltd.
Planning Consultants on behalf of Sherriffs Street Ltd for a major Urban Regeneration scheme at Shurb Hill, Worcester, following a 2 year consultation process.
This is the first site to come forward following adoption of the Worcester City Masterplan, 2010 and is subject to a Planning Performance Agreement with the Authority. The application is a hybrid full and outline submission that will see a phased development of:
- 335 new dwellings for affordable and private sale, extra care, student and keyworker housing
- 12,000sqm of Commercial space
- 9,000sqm of Business space
- a 99 bed hotel
- 580 space multi-storey car park, part of which will help relieve passenger parking problems
around the listed Shrub Hill Station.
Traffic calming will be organised in a new traffic gyratory system and a shared access route through the development for improved pedestrian and bus access, relieving a railway tunnel bottleneck.
600 new jobs will be created in this ambitious and visionary development that will include cutting edge sustainable design techniques.
Gallery
Click on an image thumbnail to view the full size version.