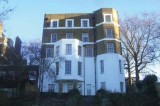 Fernhazel
Wick House, Richmond, London
We negotiated planning permission and listed building consent for the conversion and restoration of this house of unique historical significance built in 1772 by Sir William Chambers for Joshua Reynolds RA; a collaboration between one of this Country's finest Architects and finest Artists.
Wick House occupies an important location at the top of Richmond Hill. The Council recognises this site as being "highly sensitive" lying within the Richmond Hill Conservation Area, surrounded by other listed buildings and within the Thames Policy Area.
The property was much altered with a Victorian extension that compromised the original external and internal symmetrical plan form favoured by Chambers. During the 1950s a series of major alterations removed virtually all of the original interior.
The scheme restores, as faithfully as possible, the building back to a dwellinghouse employing historical architectural advice and research into Chambers' original drawings.
The scheme was initially resisted by the authority sought to preserve the multi-occupancy use. This objection was later withdrawn. There then followed extensive negotiations until the permissions were granted.