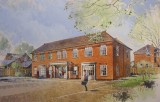 Amprop Ltd
A new office building located to the rear of a listed building and within the core of a historic Conservation Area where the setting of development and neighbour impacts were key considerations.
The site had a history of refusal and dismissed appeals by the previous owner that had generated significant opposition from the local community.
We undertook extensive resident and neighbour consultation and engagement in the formulation of the scheme.
Notwithstanding this sensitive location, with consequent support from the Parish Council, permission was granted at the Officer Delegated level and without the necessity for reference to the Planning Committee.