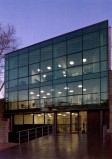 The Marble and Granite Centre
A high quality Head Office building and yard for the storage, display and sale of marble and granite, located within the Metropolitan Green Belt on the outskirts of London and utilising an arm of the Grand Union Canal to transport stone by narrowboat.
The site had previously been used as a concrete batching plant and contained no buildings. The key challenge was to obtain permission for a new building in the Green Belt. The scheme combines a mixture of striking modern architecture and a sustainable high quality office building heated and cooled by a Geo-thermal heating system and with a Green mono- pitched roof that maximises passive solar gain. The building achieved an estimated rating of Excellent under BREEAM criteria.
The permission includes an extensive open area for materials storage and display along with customer and staff parking and an area for the maintenance and upkeep of narrowboats used to transport materials.