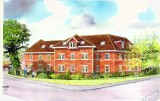 Aldershot Road Elevation
Premier Properties
Planning permission negotiated for a block of flats on a prominent road junction site within a Conservation Area and adjacent to a TPO tree of significant public amenity value.
The scheme paved the way for the long-term protection and preservation of this important tree in contrast to a previous proposal.
It was supported by the Council as a qualitative improvement on the previous scheme.