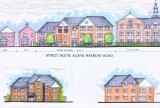 Maybury Road Elevation
Robert Gamlen Homes
Planning permission negotiated for the erection of 2 blocks of 24 flats on the site of a retail car spares workshop, MOT centre and bedsits.
The scheme involved community consultation exercise with residents groups and Ward Members.
As the site had been used as a vehicle parts manufacturers, it was necessary to reconcile mitigation of on site pollution and contaminants and overcome policies in relation to loss of employment floorspace, mitigation of Thames Basin Heaths Special Protection Area concerns and provision of on site renewable energy generation.