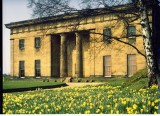 English Heritage
We were instructed by English Heritage with The Garden Centre Consultancy, to examine the potential for garden centres at the following Country Houses:
• Audley End House, Suffolk
• Belsay Hall, Northumberland
• Chiswick House, West London
• Eltham Palace, South East London
• Osbourne House, Isle of Wight
• Witley Court, Worcestershire
• Wrest Park, Bedfordshire
These were selected on the basis of their national and tourism significance, coupled with substantial unused space within Estate buildings. Our Report studied the planning and business potential for garden centres at each.
The scope of works required:
• Suitability of the sites including detailed site inspection and assessment,
• Examine the business opportunity,
• Assess the possibilities of business partners,
• Comparison with existing operations in heritage and tourism situations,
• Examine the scale of business opportunities in terms of turnover, margins, etc.,
• Scale of investment required,
• Operational requirements,
• Customer experience and added value.
The Report assessed the UK Garden Centre Industry, its history, diversification and background in relation to the site specific assessments, identifying each Country House site in turn and the feasibility of developing a garden centre.
We investigated the planning history, policy situation and opportunities for garden centre development, having regard to planning controls such as Green Belt, Areas of Outstanding Natural Beauty, listed buildings, Conservation Areas and Nature Conservation importance.
The Report concluded with recommendations for each of the properties, opportunities for partnership and likely future development costs.