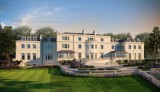 The Dorchester Collection
Coworth Park Estate, Ascot, Berkshire
Coworth House is situated in extensive grounds forming part of the 200 acre Estate used for polo and equestrian activities. The site lies in the Green Belt and a Special Protection Area.
We provided planning advice on the strategy to progress a scheme for a prestigious hotel. Following extensive pre-application discussions we obtained the following permissions:
Coworth House and Stables:
Change of use/redevelopment of Coworth House into a prestigious hotel to include the change of use of the stables to additional guest accommodation.
The stables and hay barn were converted into 29 suites ancillary to the main hotel building and conversion of the central barn into a fine dining restaurant.
This application included a Short Rotation Coppice and closed loop ground source heat and cooling system to fuel the biomass boiler in the proposed energy centre and will contribute in excess of 20% of the total energy demand. The development also aims to achieve a reduction in CO2 emissions of 23% below the Target Emission Rate.
Four more application have been granted providing additional hotel accommodation in nearby cottages to achieve of a total of 69 rooms.
Hotel Spa Facility:
Permission for the erection of an ancillary spa facility, following the demolition of an equestrian barn.
The spa complex was designed to integrate with the landscape and topography of the site, predominantly constructed underground. The roof is used to grow camomile, lavender and grasses that can be harvested for use in the spa.
50% of the energy and hot water requirements of the spa complex can be accommodated by the on site ground source heat system and biomass boiler.
Gallery
Click on an image thumbnail to view the full size version.